If you're new to Softgels, we've prepared a list of frequently asked questions below to help you get familiar with our cannabis "capsules".
"Are Softgels right for me?"
Softgels are an ideal medical cannabis option for patients looking for consistent, pre-measured dosing in a non-combustible, smoke-free format. They're discreet, convenient and easy-to-swallow. Softgels are also typically cost-effective, with most bottles containing 30 softgels and others containing 15.
"What are the potencies of softgels available to Starseed patients?"
Starseed offers Softgels in various CBD, balanced and THC profiles to meet the needs of all patients. You'll find the CBD and THC potencies listed within each product card on our shop. For Softgels, potencies are measured by each individual softgel, not the entire contents of the bottle, so that you know exactly how much you are taking per each dosage (see portion outlined in red below).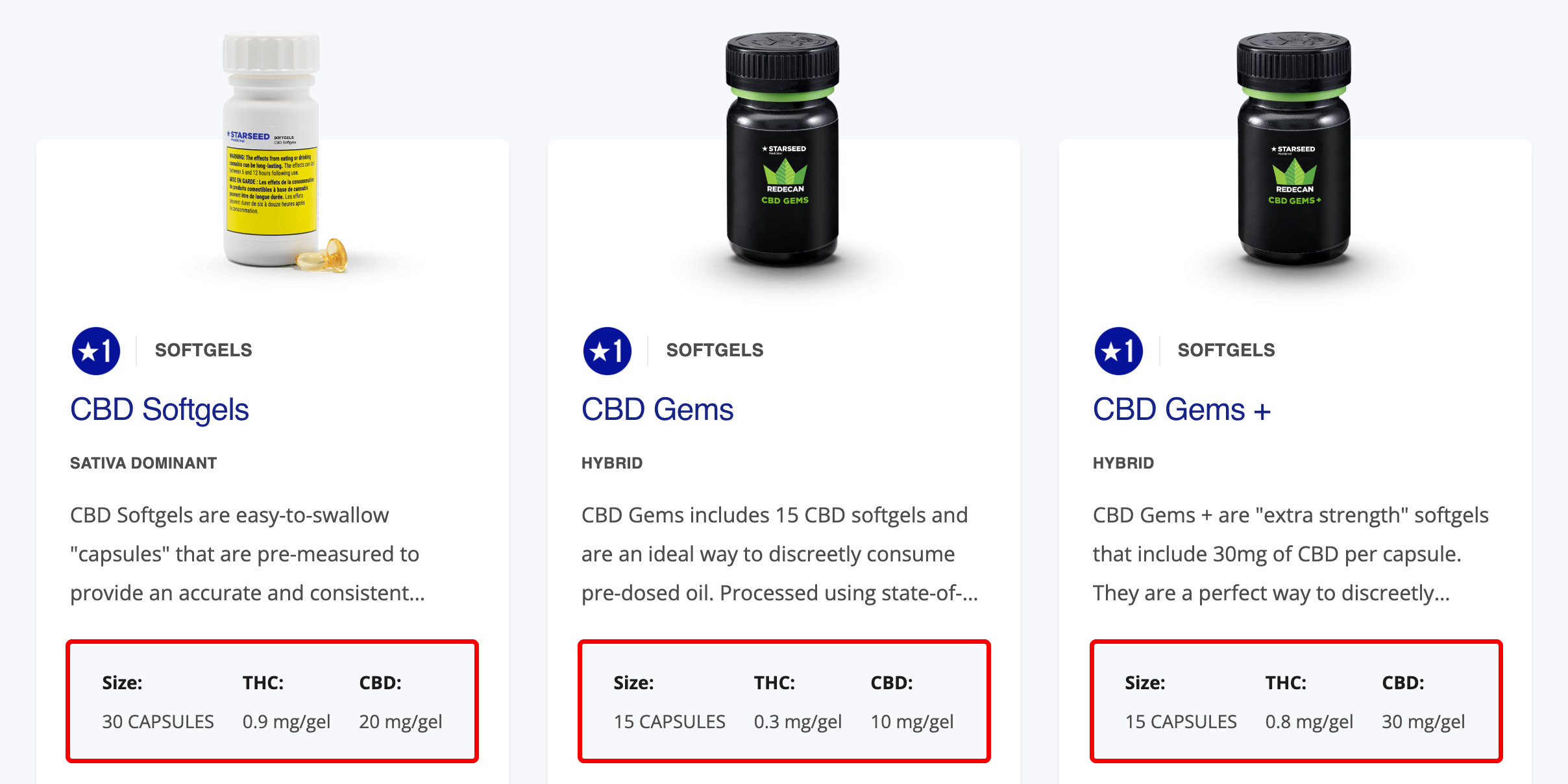 "Which Softgel is best for me?"
If you're already familiar with cannabis oil or oral sprays, we recommend choosing a Softgel that most closely mirrors the formulation of your preferred oil. For example; if you prefer a Star-1 cannabis oil, then choose a Star-1 softgel!
Currently, Softgels are offered in 4 separate brands that all provide their own unique benefits. You'll find Irwin Naturals, CB4 Relief Softgels, Redecan and Starseed-branded softgels all listed on our shop.
If you're unsure, consult your physician or healthcare professional to determine whether Softgels may be right for you, and the dose that best fits your treatment plan. We always recommend patients "start low, and go slow."
"What are Starseed Softgels made of?"
Our Softgels are made of a few simple ingredients, including gelatin, coconut MCT oil and, of course, cannabis!