Chronic pain is best treated through multi-modal therapies including physical therapies, psychotherapy, spiritual care, lifestyle management, and interventional therapies.
Start by setting goals that are SMART (specific, measurable, action oriented, realistic, and time-based). For example, "I want to reduce my pain from an 8/10 to a 6/10 so I can walk the dog around the block within 4 weeks after starting treatment".
The drug classes that correlate to the three pillars of the pain triangle – Chronic Pain, Insomnia and Stress are listed below. Medical cannabis is a promising alternative for all, and it is likely to avoid the negative side effects associated with these drugs, particularly opioids.

Retrieved from:
http://nationalpaincentre.mcmaster.ca/documents/Opioid%20GL%20for%20CMAJ_01may2017.pdf
Medical Cannabis as an Alternative Therapy for Chronic Pain
Alternative pain treatment options are necessary to address the opioid crisis and the high prevalence of chronic pain. There is an increasing number of chronic pain patients not achieving their pain management goals, and there is a lack safe options to address chronic pain1.
Cannabis has better safety profile than opioids, with no reported deaths directly due to overdose. In the U.S, in the states with legalized cannabis, there was a reduction in opioid-related mortality and opioid prescriptions2.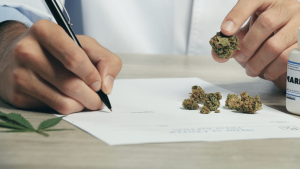 Furthermore, our body's own endocannabinoid system and opioid system interact synergistically with major pain pathways. Cannabinoids have several mechanisms of action to produce pain relief, whereby cannabinoid receptors are present in the peripheral and central nervous system, and in immune cells.
References:
[1] Stucke, A. G. et al. Opioid Receptors on Bulbospinal Respiratory Neurons Are Not Activated During Neuronal Depression by Clinically Relevant Opioid Concentrations. J Neurophysiol 100, 2878–2888 (2008).
[2] Bradford, A. C., Bradford, W. D., Abraham, A. & Adams, G. B. Association Between US State Medical Cannabis Laws and Opioid Prescribing in the Medicare Part D Population. JAMA Intern Med (2018)
[3] Wen, H. & Hockenberry, J. M. Association of Medical and Adult-Use Marijuana Laws With Opioid Prescribing for Medicaid Enrollees. JAMA Intern Med (2018).