Digital Treatment Plans are now available to all registered patients through your account profile.
As your medical cannabis provider, Starseed is committed to providing the resources and medical-focused products to help you achieve your health and wellness goals. Our new Treatment Plan feature connects patients to tailored product options and dosing instructions as recommended by your health care practitioner – allowing you to confidently follow a safe and responsible medical cannabis regimen.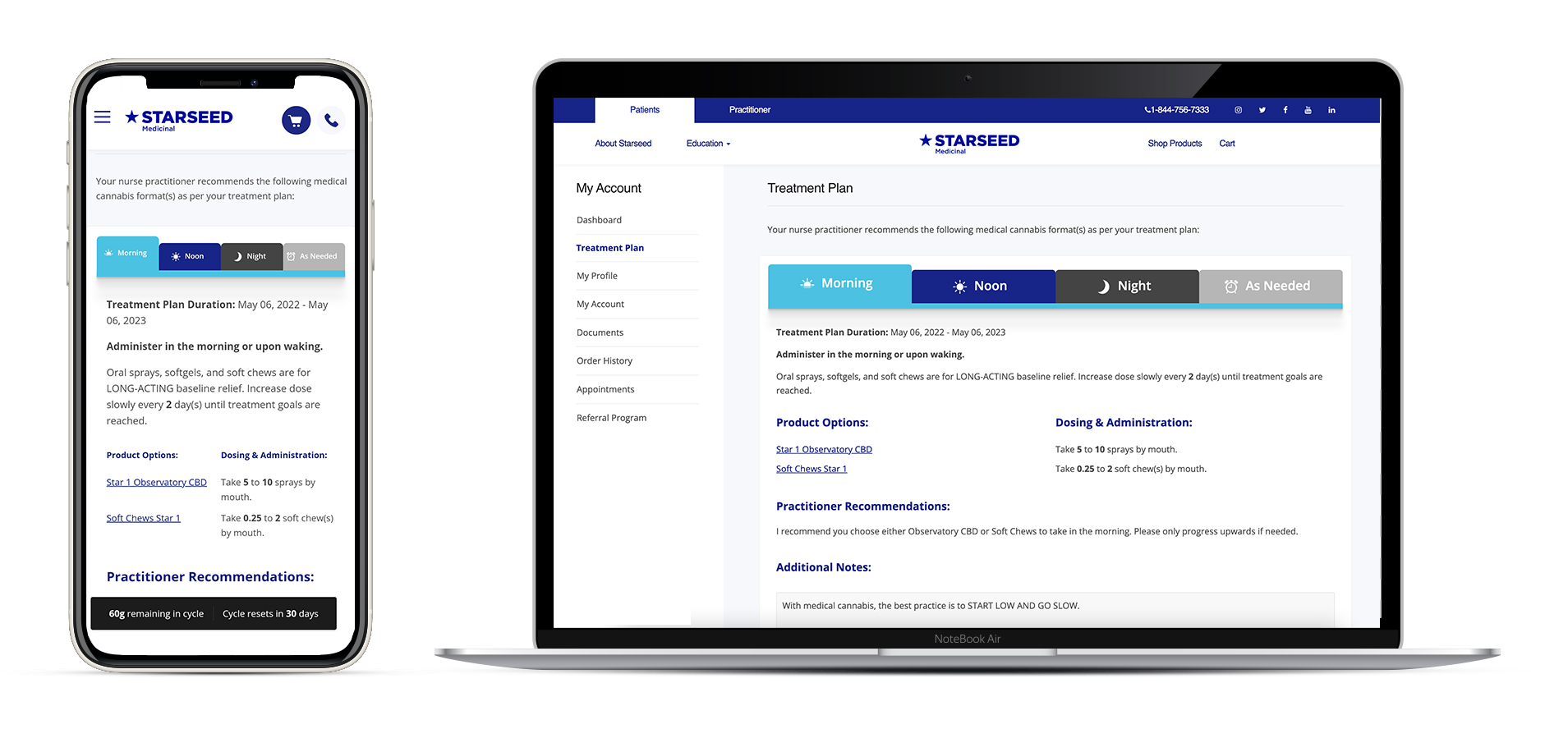 A Plan Customized to Your Needs
This innovative new feature is now accessible through your account profile and includes:
• Product recommendations by time of day (Morning, Noon, Night, As Needed)
• Specific dosing and safe administration instructions
• Personalized health care practitioner suggestions based on ailments and cannabis experience
• Ability to order products from your Treatment Plan page
Please note, if you are already a registered patient, your Treatment Plan will be developed during your next consultation with one of our partner clinics.
Already a Starseed Patient? Here's how it works

Digital Treatment Plans are now a standard part of our free consultation process. During your next consultation, the health care professionals at our clinic partners, such as HelloMD and North Star Wellness, will develop a personalized treatment plan with you.
As always, you can book a consultation to renew your medical document or you can book to speak with a nurse practitioner for general health or cannabis advice. If you would like a personalized treatment plan today, even if your medical document is not due for renewal soon, feel free to book an appointment with our clinic partner HelloMD.
Shortly after your consultation is complete, you'll receive a notification from us that your Treatment Plan is ready to be viewed within your account profile. From there, you can purchase recommended products directly from your Treatment Plan page.
---
If you have questions about how to obtain a Treatment Plan or any of our products or services, our Client Care Team is available to assist you at 1-844-756-7333 or info@starseed.com