Chronic insomnia is a long-term pattern of difficult initiating or maintaining sleep. Sleep disorders, like insomnia, are problems with the quality, timing, and amount of sleep, which result in daytime distress and impairment in functioning.1
Our sleep-wake cycle is controlled by the body's internal clock known as circadian rhythm. Circadian rhythms are physical, mental, and behavioural changes that follow a 24-hour cycle. It can influence important functions in our body, such as hormone release, digestion, body temperature, and sleep cycle. Usually, our circadian rhythm closely follows the daily pattern of day and night. However, many people have sleep schedules that cause misalignment of their circadian rhythm.
Shift work is one example of a situation in which individuals are unable to get the sleep they need. Travel is also a common cause of disturbed sleep. In some people, circadian rhythms can be shifted forward or backward without a clear cause, resulting in persistent difficulties in sleep timing and overall sleep quality. Poor sleep can also trigger or worsen other health conditions, creating a complex chain of cause-and-effect of insomnia.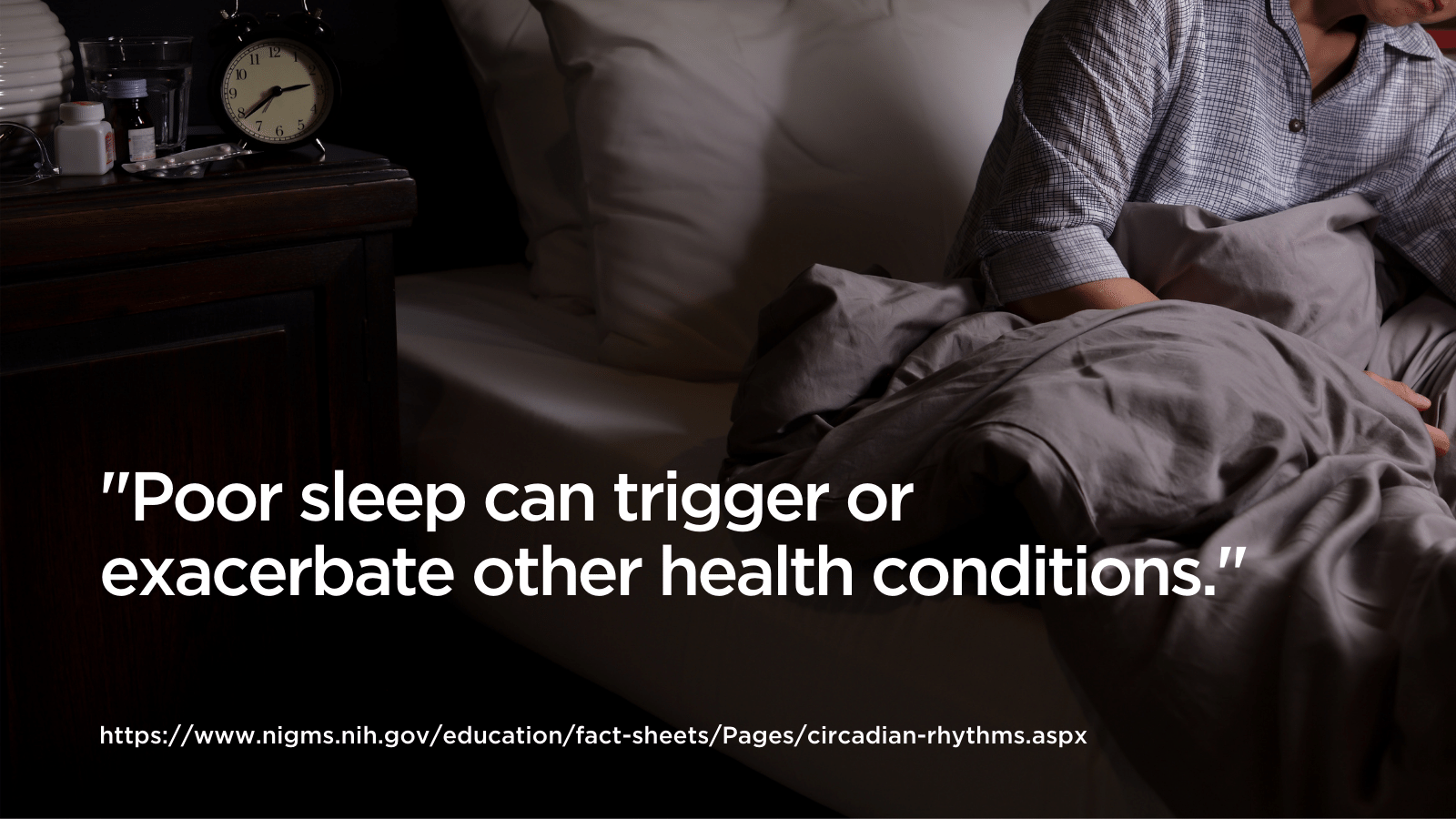 Sleep quality can be hampered by a demanding work schedule and high level of stress, but the contrary is also true. It's difficult to perform well when you're nodding off at your desk, fatigued, have poor energy, and lack creativity.
Many medical conditions, such as PTSD, pain, and sleep apnea, have the potential to disrupt sleep.
Can medical cannabis help with sleep?
A recent high-quality human clinical trial demonstrated that giving cannabis, specifically THC 10mg-20mg in oil form, one hour before bed improved sleep quality and insomnia significantly. The research implies that mixing THC with CBD can help people who are new to THC or who are sensitive to it avoid or lessen the unpleasant psychoactive effects of THC.2
---
References:
[1] Qaseem, A., Kansagara, D., Forciea, M., Cooke, M., Denber, T.D., et al. (2016). Management of chronic insomnia disorder in adults: a clinical practice guidelines from the American College of Physicians. Annals of Internal Medicine, 165(2). 125-133.
[2] Walsh, J.H., Maddison, K.J., Rankin, T., Murray, K., McArdle, N., et al. (2021). Treating insomnia symptoms with medicinal cannabis: a randomized, crossover trial of the efficacy of cannabinoid medicine compared with placebo. Sleep Research Study, 44(11), 1-8.